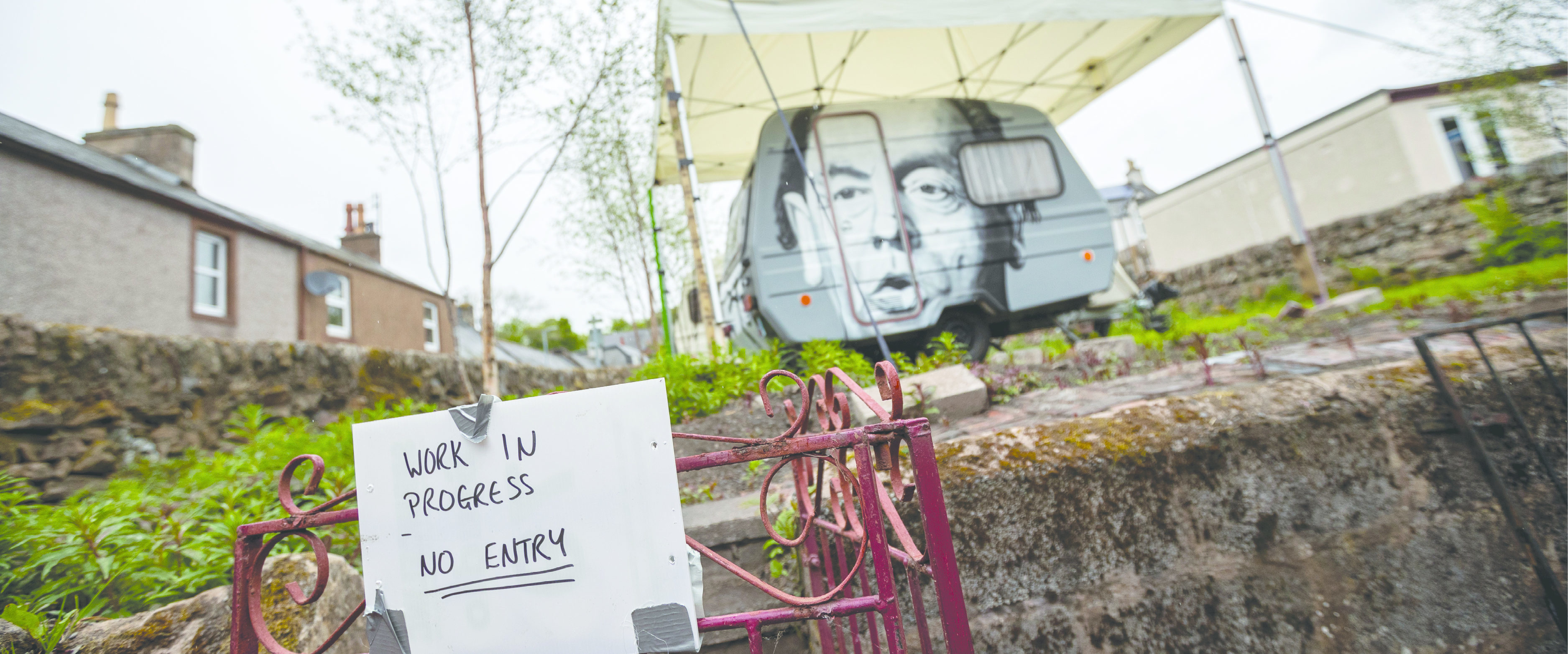 Summary
Upland CIC and Wigtown Festival Company (the organisation responsible for Wigtown Book Festival) are seeking to appoint a visual artist or maker as artist-in-residence for a two-part residency at Wigtown Book Festival 27 September-6 October 2019 and Spring Fling 23-25 May 2020, two major events taking place in Dumfries & Galloway.

This 8-day residency is for a new or recent graduate who has graduated from a UK art school or college within the last two years, are embarking on a career in their chosen creative practice and are based in Scotland.
Background

Following a pilot artist's residency project that took place during Wigtown Book Festival in 2009, Wigtown Festival Company and Upland CIC have collaborated on this residency project annually ever since - in 2010/11 Deirdre Nelson, in 2011/12 Kim Ayres, in 2012/13 Joanne B Kaar, in 2013/14 Astrid Jaekel, in 2014/15 Anupa Gardner, 2015/16 Gill White and Kate Timney 2016/17. The results of the residency each year have been on display in an open studio setting in Wigtown during the following Spring Fling.
Read more about the 2016-17 residency here: http://www.weareupland.com/projects/spring-fling-x-wigtown-book-festival-residency
The Residency
THIS IS A PUBLIC ENGAGEMENT RESIDENCY
This 8-day residency is for a new or recent graduate who has graduated from a UK art school or college within the last two years, are embarking on a career in their chosen creative practice and are based in Scotland.
This breaks down to 6 days spent at the Wigtown Book Festival (27 September–6 October) during which time the artist-in-residence will immerse themselves in the festival, hold workshops and interact with the festival's audiences. This initial period will inform a new body of work or an artwork to be shown over Spring Fling 2020 taking place 23-25 May, where the artist will be expected to install new work, be present at the opening event for the artwork(s) and engage with visitors over a 2 day period.
This is a new format and allows the Artist to produce a body of work to be exhibited as part of Spring Fling, rather than the previous format which meant the artist had to recreate their own studio. We hope that this development will allow for more audience engagement and encourage the production of contemporary, thought provoking, dynamic, experimental work which is not limited to the confines of a studio environment.
There is potential for much connection between the audience of Spring Fling and that of Wigtown Book Festival, and we know that both audiences are likely to be interested in the content of each event. It is hoped that the residency project will help to enhance this relationship - and prompt visitors to visit the region more often than once a year.
The Fee
The successful applicant will receive a fee of £2,000, to include any materials and travel costs both during Wigtown Book Festival 2019 and during Spring Fling 2020. This fee breaks down to £180 per day (new graduate day rate) and £560 for materials/expenses.
Accommodation will be provided free of charge (possibly sharing a cottage space with writers attending Wigtown Book Festival) throughout the residency and again during Spring Fling 2020.
In addition, the artist will be given a free pass to Wigtown Book Festival events, according to availability and by prior arrangement with Wigtown Book Festival. This is so that the successful artist will have the opportunity to attend events and experience Wigtown Book Festival.
Upland CIC & Wigtown Festival Company will allocate substantial resources to promoting this residency as a major attraction of both Wigtown Book Festival 2019 and Spring Fling 2020.
How to Apply
If you would like to apply for this residency we would request the following:
Six images of your work in digital format
A statement about your practice
An up-to-date CV
Up to 400 words (maximum) about how you would spend your time in Wigtown, what you would propose to produce by the end of the 8-day residency, how you will develop this and present it during Spring Fling, and details of any relevant experience you have in this area.
Applications will be reviewed by a panel from Upland CIC & Wigtown Festival Company. Shortlisted artists will be expected to take part in a Skype interview during the week of the 12th August.
Please email your application to Andy Stewart at the address below.
andy@wigtownbookfestival.com


Deadline for applications: Midnight, Sunday 4th August 2019

Find out more information on the residency, fee and application process here
Banner image: Work by Dougie Sharpe, Spring Fling 2019. Image by Colin Tennant.