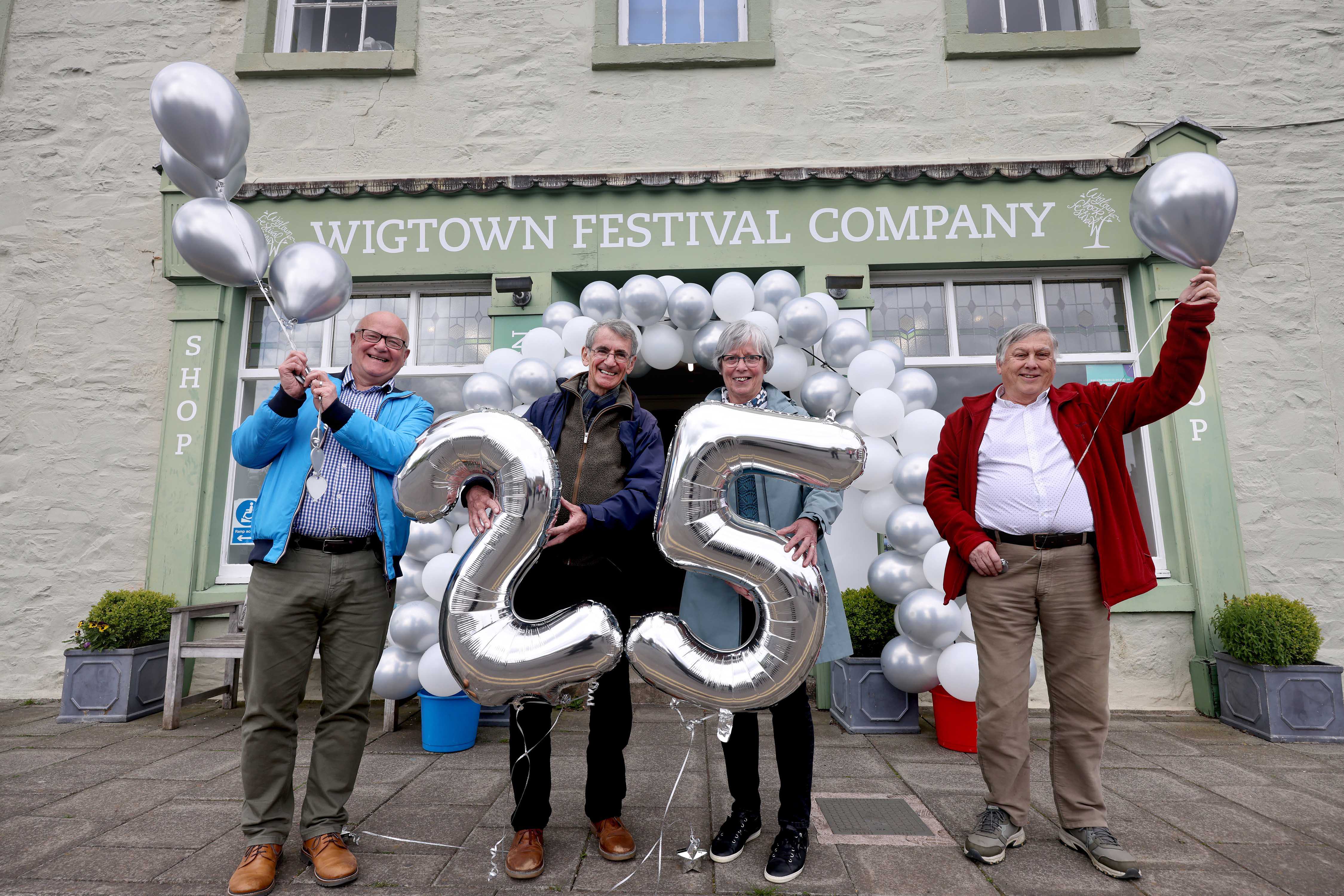 The small Galloway community of less than 1,000 has undergone a major regeneration since it was given the title on 16 May, 1998

16/05/2023

-Book Town people gather to celebrate town's regeneration
-Looking ahead to 25th annual Wigtown Book Festival
Wigtown today celebrated the 25th anniversary of becoming Scotland's National Book Town.
The small Galloway community of less than 1,000 has undergone a major regeneration since it was given the title on 16 May, 1998.
A key reason it won the race to become Scotland's National Book Town (which involved six competing communities) was the plan for an annual book festival.
The first Wigtown Book Festival took place in 1999 and it has grown to become one of the UK's favourites – now running for 10 days a year and offering hundreds of events for adults, young people and children.
The town is now home to:
- Wigtown Book Festival – which attracts 13,000 visitors and generates £4.3m for the economy, supporting the equivalent of 57 full-time jobs plus opportunities for 100 volunteers.
- Seventeen book-related business, including Scotland's largest second-hand book shop and the country's only feminist book shop.
- Bookshops stocking more than half a million books – well over 500 for each resident.
- High-profile authors who write about the region including Shuan Bythell who wrote the Diary of a Bookseller series and Kathleen Hart who wrote the blockbuster Devorgilla Days and Jessica Fox writer of Three Things You Need to Know About Rockets.
- The immensely successful Open Book Airbnb where visitors can enjoy a holiday running a book shop – there is also a literary-themed guest house.
- The Bookshop Band – writers and performers of literature-based songs who tour independent bookshops and other venues worldwide.
- The annual Wigtown Poetry Prize – celebrating Scotland's three indigenous languages and with a worldwide reputation for excellence.
- The new award-winning feature film Stella, which will go on public release this year.
- Scotland's most southerly distillery at Bladnoch – now reopened and producing whisky.
It's all a far cry from the 1990s when the town was in deep economic trouble after the closure of the creamery and distillery which were major employers and when there were no less than 83 properties – some derelict – on the market.
Twenty five of the people who have helped transform the town gathered to mark the anniversary including booksellers, authors, festival team members and volunteers – and some of those involved in the original Book Town bid.
Sandra McDowall, who secretary of the Community Council which made the bid for Book Town status, said: "We spent months putting the bid together and it meant so much to win. The town was so far down at the time and winning gave us back our hope and our confidence. And over the years it's all just kept on growing. It's been an amazing journey."
Anne Barclay, who was a Wigtown schoolgirl back in 1998 and is now the festival's Operations Director, added: "When I was growing up I remember how many empty buildings there were. The loss of the creamery and distillery were an enormous blow.
"But despite the desolation of the early 90s, there has always been an incredible community spirit in Wigtown and it is that commitment and determination that has helped to raise the town from its knees over the past quarter century.
"We owe so much to those who had the foresight to campaign for Book Town status, and to those who have supported, developed and maintained it, helping to create a beautiful and vibrant place to live, work and visit. It is a privilege to be part of Wigtown's story."
This year will be the 25th annual Wigtown Book Festival and Edinburgh-based Lee Randall is guest programmer for the event, which runs from 22 September to 1 October.
She said: "I've been involved in the festival for many years now, and visits to Wigtown are a highlight of my calendar. I'm besotted by the beauty of the town and its bookshops, and the warm welcome for visitors.
"I'm not joking when I say that a piece of my heart resides there year-round. Wigtown is my home from home. It's wonderful to be celebrating its 25th anniversary as Scotland's Book Town and we are really looking forward to an extra special 25th book festival later in the year."
A close partnership with Dumfries and Galloway Council has been essential – helping support the festival, which in turn generates cultural tourism, business opportunities and jobs.
Those who gathered in the town centre for today's anniversary included Sandra, Lee and Anne as well as Meta Maltman (former chair of Machars Action who set the original bid in motion), Donald King (from the Book Town bid committee), Cathy Agnew (current Book Festival Chair), booksellers Ian and Joyce Cochrane, author Kathleen Hart, Andy Bolam (Wigtown Emporium), Glenn Cooksley (Faodail), Christian Ribbens (former festival board member), Renita Boyle (storyteller), Mike Smith (former board member), Grace Crichton (volunteer and former community councillor), Julie Houston (bookseller at Book End Studio), Roger Davis (festival company vice chair), Bre Martin (New Chapter Books), Ian and Helen MacDonald (some of Wigtown's first booksellers), Jenny Bradley (Book Town Company administrator), Ian Wood (former bookseller), Andy Stewart (book festival children and young people's producer), Bee Williams (marketing and comms co-ordinator).
- Ends -
Notes 
For more about Wigtown Book Festival see https://www.wigtownbookfestival.com
For further information and interview requests contact Matthew Shelley on 07786 704299 or [email protected]
Wigtown Festival Company Ltd, 11 North Main Street, Wigtown, Dumfries & Galloway, Scotland, UK, DG8 9HN © 1999 – 2018. Wigtown Festival Company Ltd is a company limited by guarantee with charitable status. Scottish Charity No. SCO37984