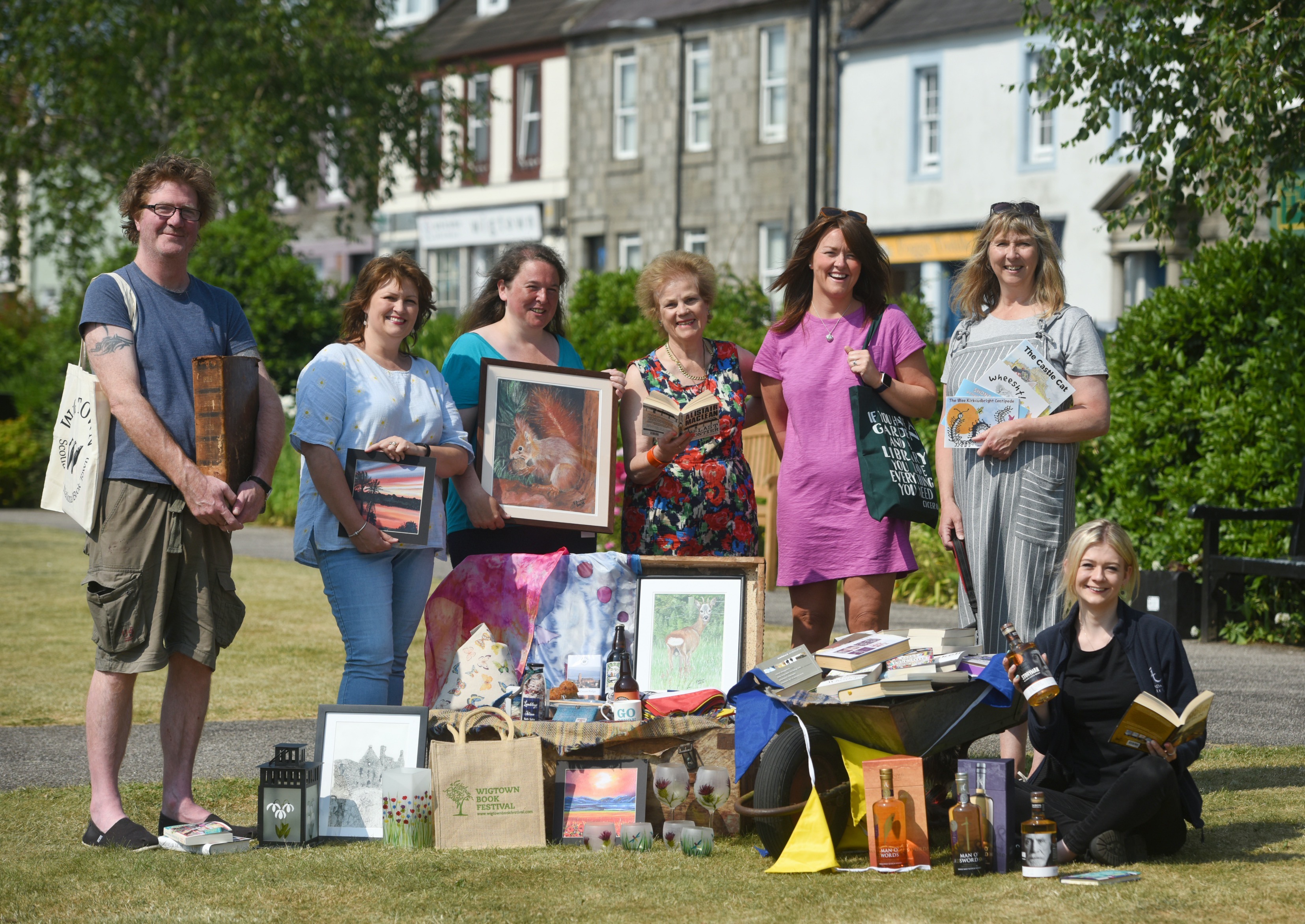 Driving Regeneration – Wigtown Book Festival Has Generated £50m For Region

Most important festival for Dumfries and Galloway economy
Boosting business, tourism, jobs and opportunities for young people

As Scotland's National Book Town looks forward to the 25 th annual Wigtown Book Festival, figures show the event has generated over £50 million for the regional economy since its inception.
Each year more than 10 times the village's population descend on the book lovers' haven to take in the festival.
Starting back in 1999, a central aim of the event has been to help drive regeneration across Wigtownshire (a highly rural area which has seen a steep decline in its traditional industries) and beyond.
Crucially the festival has provided a platform for artists, craft makers, food and drink producers, accommodation providers and bookdealers as well as authors.
A key business example is The Kist, a popular selling fair taking place during the book festival. As the name suggests, it's like a treasure chest full of treats including artwork, crafts, artisan beers, whiskies from local distilleries, textiles, sweets and many other delights. Dumfries and Galloway Council has provided essential support and funding for the festival from the start.
Councillor Jackie McCamon joined traders, booksellers and staff to highlight the
festival's economic importance – and the prospect that The Kist will be bigger and better than ever in 2023.
Councillor McCamon, the Vice-Chair of the Council's Communities Committee, said:
"The book festival has become one of the best loved events within Dumfries and Galloway. There are so many stimulating things to see and do, and it leaves a positive mark on all of its visitors. That it is has been directly responsible for more than £50m of additional economic expenditure in the regional economy since it started is phenomenal."

In the years immediately before COVID the festival was sometimes generating more than £4 million a year for the regional economy. Around half its visitors coming from outwith the region and stay an average of three to four days. It also brings a surge of shoppers to Wigtown's 17 bookshops and related businesses.
Other benefits have been the career opportunities for young people in Wigtownshire – which is the most economically challenged part of Dumfries and Galloway.
The Wigtown Festival Company currently employs 10 people, five aged 30 or under including Event Assistant (Children and Young People) Esther McGarva.
Past young employees have included Catherine Jones who is now Creative Learning Manager at the Edinburgh International Book Festival, Mairi Adams who is the Events Co-ordinator at Turnberry, and Lilidh Kendrick, who went on to be Assistant Editor at Bloomsbury and is now Prizes and Programmes Manager at Women's Prize for Fiction.
Operations Director Anne Barclay and Andy Stewart who produces its events and programmes for children and young people have both thrived as part of Wigtown Festival Company since taking up jobs there aged 22 and 18.
Anne said:
"It can be hard for young people to kick start their careers in this area, or build successful careers if they want to stay in Dumfries and Galloway. It can also be tough for the self-employed and small businesses to develop and provide the livings people need.

"We are trying to provide some of the opportunities people need, and to help this incredibly beautiful part of rural Scotland to achieve greater prosperity. None of this, and the festival itself, would simply not have been possible without the ongoing support of the council."
This year The Kist will feature dozens of businesses. In the past they have always had to run their own stalls, meaning a substantial time commitment. This year the festival has set aside an area where it will sell a carefully curated selection of goods on behalf of makers and suppliers.
Heather McKie, from Wigtown whose visual art will be on sale, said:
"The first Kist I took part in was in 2016 and I have enjoyed it ever since. I've met lots of lovely folk. It has really got my name out there and put my artwork in front of a large audience."
Donna Stewart, Newton Stewart-based artist and maker whose work will be in the curated section, added:
"This will be my fifth Kist. I very much wanted to take part but childcare
commitments were going to make it difficult, so the new format is perfect for me.

"It's such a great event, the highlight of the craft year in this area, and it's such a massive opportunity to have your work seen by people from all over the UK and beyond – we even have regulars from the USA."
Lee Medd, Group marketing Manager of Annandale Distillery Group, said:
"We are heading to Wigtown Book Festival again after a fantastic first time visit in 2022.

"Last year visitors were keen to try and buy our award-winning single malt scotch whiskies, and hear how Annandale Distillery was reborn after almost a century.

"This year we are delighted to be returning and to share the story of our brand new premium blend – STORYMAN - A unique collaboration by world famous actor James Cosmo and Annandale Distillery.

"We are returning as a trade partner and sponsor for what we are sure will be a busy 10-days."


Dumfries and Galloway Council has provided essential support and funding for the festival from the start. The local authority is providing £28,400 for the 2023 festival. The council has helped with Wigtown's regeneration in other ways. Among the most significant was the refurbishment of the impressive County Buildings 20 years ago.
Councillor Ian Blake, Chair of the Council's Communities Committee, added:
"When the Wigtown community put its faith in books to regenerate the village, the book town could have failed, and left local people dispirited and economically isolated.
"Instead, it is Scotland's literary success story, a fantastic example of community led economic revival that has created a beautiful place to visit and enjoy."
 This year's Wigtown Book Festival takes place from 22 September to 1 October.
The economic and visitor figures are compiled each year by Wigtown Festival Company.

- Ends -