Always On
Rory Cellan-Jones
6 September 2021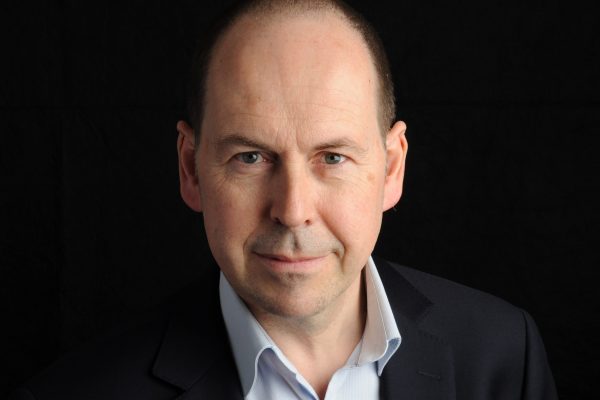 Rory Cellan-Jones reflects on his life and the ways that technology has changed it. If you want to hear more from Rory, you can find him at his Wigtown Book Festival event at the end of the month. You can also purchase a copy of Always On from our online bookshop. 
Rory Cellan-Jones began life as a "BBC scandal" baby, then went on to become one of the corporation's most respected journalists.
As technology correspondent for BBC News since 2007, and a business specialist before that, he has reported on phenomenal changes in contemporary society – with the rise of tech companies and the new electronic devices that are transforming our world. 
In the process he has met many of the people who have shaped the 21st century. Among them were Professor Stephen Hawking, who feared that the rise of artificial intelligence "will kill us all" and Elon Musk – who he sees as "brilliant" but flawed.
Over the years Rory has developed a fascination with one piece of modern technology in particular – the smartphone. At this year's Wigtown Book Festival he will be discussing his book Always On, which is an exploration how, since the launch of the first iPhone, we have been thrust into a world of hyperconnectivity.
This, linked with the dramatic emergence of social media, has provided humanity with incredibly powerful means to interact. What they have done with this gift has ranged from the wondrous to the loathsome. And Rory feels that we have barely begun to see the changes that smartphone technology will bring. One area of immense potential is in the use of smartphones and wearable technology in healthcare research and treatment – something which has particular interest and resonance for him since he was diagnosed with Parkinson's disease.
At 63 Rory's lifetime has spanned immense technological and social change. He was brought up in a south London flat with no phone – having to tramp across to another block to find a coin operated call box if he wanted to ring someone.
By the mid-1990s an interest in technology led him to become an early adopter of the internet. After buying an Apple Mac he recalls connecting to the Louvre website: "We were just bewitched by it. The Louvre had one of the first websites and we watched as a picture formed on the screen literally line by line over about five minutes. It's difficult to remember how that seemed like a miracle. But I was excited by the technology and by its promise."
With the rise of the mobile phone came all sorts of new possibilities, including the thrill of being able to choose from umpteen different ringtones. Then came the smartphone and it didn't simply expand the capacity of mobiles, but propelled us in an entirely new direction.
Rory said: "The transformative effect of the smartphone is not about calling, it's about connectivity. People don't care about ringtones now. People don't want their phones to ring. They're not ringing other people, they're texting, or on WhatsApp, or watching Netflix or playing games."
His next project will take Rory away from the future and technology to focus on the past, and specifically his own family. Rory's Wikipedia entry explains (in rather quaint terms) that he was born "out of wedlock" in 1958 – his parents being BBC secretary Sylvia Rich and the much younger TV director James Cellan-Jones. In his own words "I was the result of a BBC scandal".
Throughout her life Sylvia kept and tucked away all the letters she received. They tell the story of her affair and also give insights on the changes that took place in the BBC over many years where she worked from the early 1940s to the mid-1970s.
And for readers it will be a chance to revisit a world of fountain pens and manual typewriters where, one where the Royal Mail postie rather than orbiting satellites determined the speed of our communications.