Big Bang Week
16 December 2021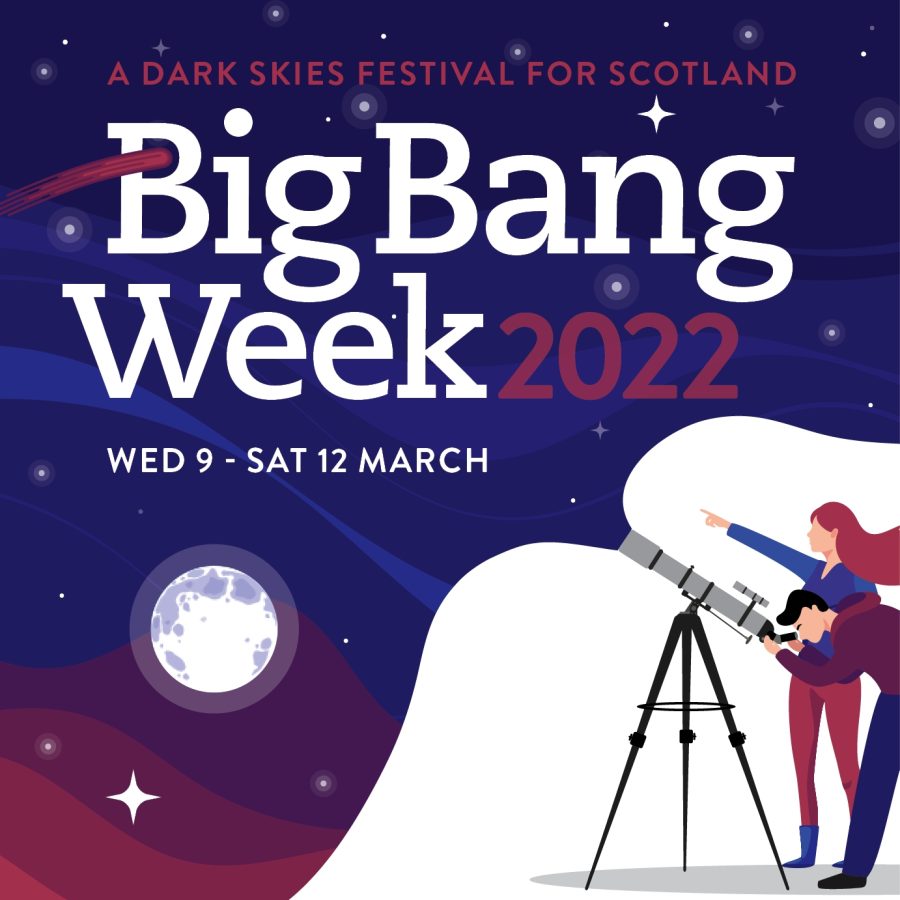 Big Bang Week 2022 took place from 9-12 March. Many events are available to watch on catch up on our YouTube channel. 
Running from 9-12 March 2022, Big Bang is our festival of space and science, which responds to the beauty of Galloway's unspoilt night sky and the fact that Scotland's National Book Town sits on the edge of the UK's first International Dark Sky Park.
Galloway Forest Park was designated by the International Dark-Sky Association as the first dark sky park in the UK in 2009, even earning the title of Gold Tier park for its breathtaking and rare stargazing conditions. A Dark Sky Park is a place with exceptionally dark night skies, where people have committed to keeping those skies dark, by controlling light pollution. There are now over 100 Dark Sky Parks worldwide. You can find out more information about the Dark Sky Park, which is also part of an internationally important UNESCO Biosphere, here.
What's on in 2022?
With most of this year's talks online and free (with suggested donation), you can truly explore the universe from your armchair.
Among the events: International Space Station astronaut Nicole Stott talks about coming back to Earth and her passion to preserve the planet. Folklorist Chris Pinard considers how our Celtic forebears understood the heavens, Sky at Night presenter Chris Lintott asks: "Are we alone?" and Emily Levesque of the University of Washington explores the life of the professional star-gazers.
Philosopher David Chalmers offers the theory that our reality is simply a simulation created by a superior intelligence, and explains why many thinkers believe this Matrix-like speculation more likely than not. Almost as mind-bending is the fact that much of our universe is invisible: Matthew Bothwell will be telling us where he thinks it went.
Plus we will travel to the Red Planet, Mars, with writer Simon Morden and to the birth of the universe, the subject of Emma Chapman's book First Light. Closer to home, Matt Gaw discusses his adventures walking under the light of the Moon.
This year's programme particularly celebrates women in STEM (Science, Technology, Engineering and Maths) and we're particularly excited to welcome Catherine Heymans, Scotland's Astronomer Royal who, with Martin Hendry, will be discussing the life of "Scotland's Einstein" and Galloway's greatest scientist, James Clerk Maxwell.
And for the first time Big Bang introduces a dedicated children's day in association with the National Centre for Children's Literature and Storytelling at Moat Brae House in Dumfries. Join starstruck and moonstruck authors Vashti Hardy and Annaliese Avery, and discover a whole new world of microscopic wonders with BBC1 The One Show science expert Marty Jopson.
We hope that people will join us digitally from all around the world this spring. But, if you are within reach of Galloway, do visit Kirkcudbright's Dark Space Planetarium. This year is also Scotland's Year of Stories 2022, a 12-month nationwide festival which celebrates this country's extraordinary narratives, past and present. What better way to mark it than to round off a walk with Dark Sky ranger Elizabeth Tindal around a forest campfire listening to tales written in the stars?