Big DoG is back! The children's festival returns to Dumfries for its third year
15 March 2019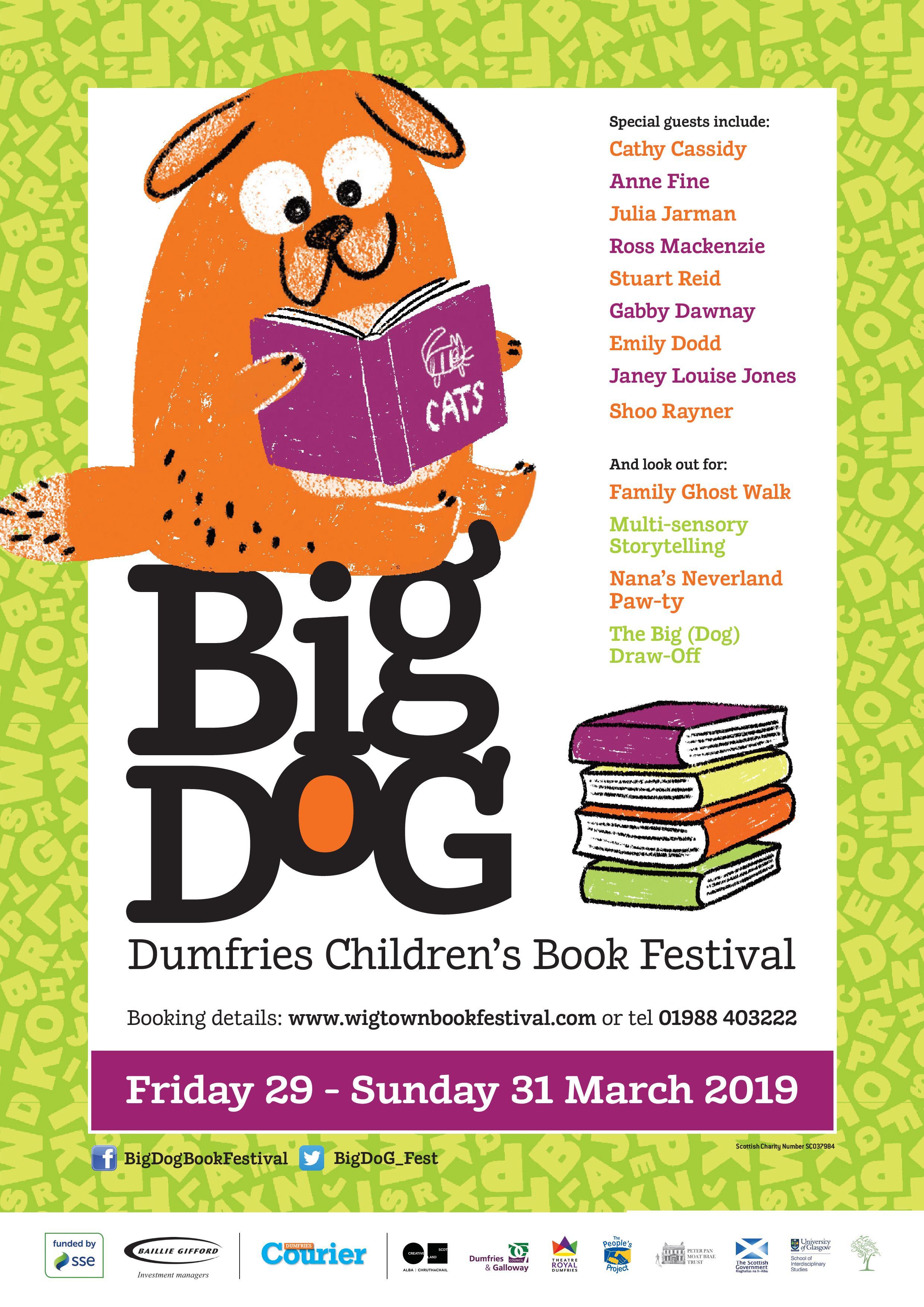 Big DoG is an exciting family festival taking place in Dumfries, celebrating children's books and creativity. From Friday 29th to Sunday 31st March, venues in Dumfries will be hosting authors and illustrators, putting on workshops, and even throwing a Neverland Paw-ty!
Big DoG himself was inspired by Nana, the dog who looks after the children in Peter Pan. He lives in Dogfries, and loves to read; that's why he's the face of our festival.
We're so excited that Big DoG is now three years old! To celebrate, the team here at Wigtown has been working hard to put together another magical weekend. With over twenty drop-in sessions and ticketed events across three days, there is something for everyone.
Ever wanted to create a book cover in mono-print? Desperate to ask an author your questions about a character? Or hear about a Beltie Bull's adventures translated into Arabic? At Big DoG 2019, parents and children alike can experience the wonder of a good story, in a way that suits them. There is even a very large batch of scrummy biscuits that need decorating…
We're also proud to welcome Anne Fine, an award-winning author, former Children's Laureate, and the writer of Madame Doubtfire. She is just one of the many talented speakers and creators attending.
So what are you waiting for? Join Big DoG, on an adventure where everyone has a tale.
To find out more, download a programme, or to book tickets go to: http://wigtownbookfestival.com/programme#bigdog
You can also follow Big DoG on Facebook for regular updates and sneak peeks.


Hooked!
Don't forget, for young adult readers and writers there will be a day of creative workshops taking place at The Stove on Saturday 30th March.
To find out more, download a programme, or to book tickets go to: http://wigtownbookfestival.com/programme#hooked


Important information:

Children must be accompanied by an adult, and one accompanying adult attends free. Family day tickets are also available. See Ticket Offers & Passes
Ticket booking can be made online, by telephone on 01988 403222, or in person at 11 North Main Street, Wigtown, DG8 9HN.


With thanks to:

Our funders and sponsors: Baillie Gifford, SSE, Creative Scotland, Dumfries and Galloway Council, Peter Pan Moat Brae Trust, Theatre Royal Dumfries, The Scottish Government, The People's Project, and the University of Glasgow.
Our media partner: Dumfries Courier.