CommuniTEA
20 January 2022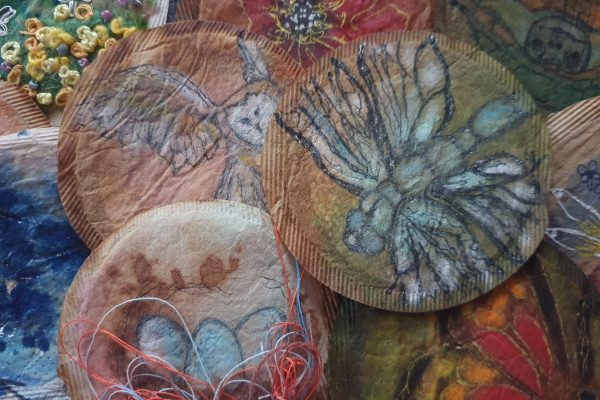 What's brewing in Wigtown? Our resident storyteller, Renita Boyle has been upcycling used teabags into mini works of Earth Day themed art; writing poems and stories along the way. Join us for a CommuniTEA exhibition - a celebration of nature through art, poetry, story and song. Stir your CreativiTEA and make a teabag of your own. Follow the Tea Trail through our cafes and bookshops. Join us online or come along. We'll pop the kettle on. In the meantime, you can follow Renita's progress here or through #RBCreativiTEA.
Programme
Exhibition of Earth Day Teabag Art 
Friday 18 March - Sunday 20 March | 10am – 7pm 
Number 11 Print Room. In-person drop in.
Zoom CommuniTEA Launch
Friday 18 March | 7-9 pm
Gather a friend or two around your table for a cuppa and Zoom in for an online exhibition of teabag art, stories and poems. Free but ticketed.  Join us on Zoom.
CommuniTEA Celebration
Saturday 19 March | 2–4 pm
Number 11 Print Room.
Bring your favourite teacup and join Renita in person for an exploration of exhibition themes through stories and poems. Spaces limited. Free but ticketed. Book here. 
CreativiTEA Drop Ins - Make and take Teabag Art 
Saturday 19 March 10am–1pm and Sunday 20 March 2-4 pm
Church Hall. Make and take your own piece of teabag art. All materials provided. No ticket required.
Wigtown Tea Trail
Friday 18 March - Sunday 20 March 
Participating bookshops and cafes as per their opening hours.
Project Background
Since 2019, Renita has been upcycling used circular teabags into miniature pieces of Earth Day art, writing stories, songs and poems along the way. The project was initially conceived in honour of the fiftieth birthday of Earth Day (April 2020).
Renita says, 'I was privileged to come from the same small hometown (Clear Lake, Wisconsin) as Senator Gaylord Nelson – the founder of Earth Day. I was 6 years old on the first Earth Day (April 22 1970) and remember picking up litter with my first-grade class. Twenty million other Americans also participated in community activities and protests across the USA that day launching a wave of environmental activism. Today, over a billion people mark Earth Day globally with increasing urgency for the protection of our world.
Hence, I was delighted to be asked to create a project for my hometown's fiftieth Earth Day Birthday celebrations (2020) – to include an art exhibition, stories, songs, poems and a workshop. As I have now lived in Scotland for 36 years, it seemed appropriate to upcycle used teabags- 167 million of which are binned or composted in the UK each year. Many also contain plastic or are packaged in unrecyclable materials. I particularly use round teabags to symbolise the earth and there is a little tiny poem hidden inside each one. I hope that each tiny work of art will inspire connection with the natural world and serve to remind us of the fragility of what we hold in our hands.
I confess that I am an imperfect environmentalist – easily overwhelmed and keenly aware of my many hypocrisies including the long-haul flights which keep me connected with my American roots and family. However, I am also aware that small changes in our everyday lives can make a big impact on our environment.
Covid prevented the fiftieth Earth Day Birthday celebrations in my hometown and my participation in them, but not my passion for the project or its themes. I was raised under wild wide skies and continue to live under them. It seems entirely fitting to welcome you to Wigtown for a cup of CommuniTEA. Do come join us.'
All events at Wigtown CommuniTEA weekend are Supported by Wigtown Festival Company, DG Unlimited Together Again Fund and Dumfries and Galloway Council.