Are you sitting comfortably – let StAnza 2022 begin!
3 March 2022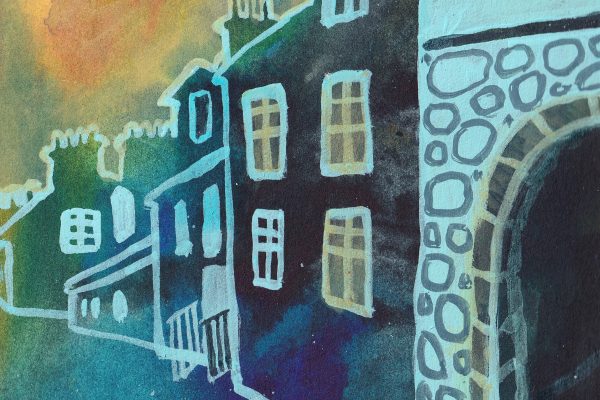 As we approach this year's StAnza festival, Lucy Burnett, the new festival director, shares some of her thoughts on the the upcoming programme, what makes StAnza so special and more. 

There was something really rather fitting about hosting the first event of StAnza's 2022 festival season, and of my own tenure as the new Director, at Wigtown Book Festival in conversation with Don Paterson last autumn. Hailing originally from Galloway myself, it was great to appear back in my local area / at my local festival, and Don has been such a stalwart supporter of StAnza for so many years! Indeed, I was so taken with his guitar music during the Wigtown reading that I've hired him for an extended music slot at our Festival Launch event on 9th March!
It's been an uncertain few months at StAnza HQ (as it has been for any festival organizer) not least with the Omicron variant making itself known at around about the same time as we launched an ambitous programme of over 110 live and 65 digital events! But our optimism has paid off, and we can't wait to welcome poets and audiences back to St Andrews in less than a fortnight's time, and to share a good portion of the festival online with audience members who for any reason continue to be wary of attending in-person.
StAnza 2022 has a title of Stories like Starting Points (a line from a Holly Pester poem), and the festival will explore the role of narrative in poetry. Stories and narrative have long had an important role to play in our making sense of what it means to be human and to live in our communities and environment, and in negotiating how this might alternatively look. 2022 is Scotland's 'Year of Stories': our festival will interpret that in the widest sense, ranging over narrative poetry, prose poetry, re-writing old stories and imagining new ones, reportage, process / chance narratives, myth /epic; there will be poets who contest the power of narrative or of stories conventionally told, and those who experiment with it.
StAnza has always distinguished itself with the internationalism of its programme, and the digital turn has enabled us to programme poets this year from every continent across the world! Many of this year's key award-winning poets feature, including Hannah Lowe, Nicole Sealey and Luke Kennard, plus a wide range of established and up-and-coming Scottish writers, including Robin Robertson, Harry Josephine Giles, Peter Mackay and Alycia Pirmohamed. The programme includes a range of familiar strands, including our intimate Round-Table events (featuring George Szirtes, Fiona Benson, Ian Duhig and Hannah Lowe) and our Past and Present programme which this year explores modernist poets, including Paul Muldoon and Vahni Capildeo both responding to The Waste Land during its anniversary year. But there are also a range of new innovations, not least our Round the World Poetry ticket, our Dinner Date discussion sessions (featuring Colm Toibin and others), and a headline spoken word performance by world beatboxing champ Testament on the Saturday night! On the Monday, Tuesday and Wednesday of the festival, the majority of events will be online, culminating in an extravaganza of Scottish poetry at our launch night, including a reading by Scotland's Makar Kathleen Jamie. Each day of the rest of the festival explores different angles on the theme, enquiring into the form of narrative poetry on the Thursday, narratives of exile and migration on the Friday, experiments with narrative on Saturday, and culminating in a day with more of a Scottish focus again on Sunday.
StAnza has worked in partnership with Wigtown Book Festival for a number of years, and will once again feature a reading from its competition winners 2021, hosted by Billy Letford. See https://stanzapoetry.org/events/wigtown-showcase/ for more info and to purchase tickets.
Over the coming years, Stanza aims to become an 'intervention' in poetry, which annually explores questions that are fundamental to the writing and reading of poetry and will engage poets and audiences alike. In this, our 25th year, and my own first as Festival Director, our starting point is narrative, and the story of the 2022 festival begins right here!
Tickets for live and digital tickets are now on sale at: https://stanzapoetry.org/festival/whats-on/. We look forward to seeing many of you there!