Lovely Nelly
A new collection
7 May 2020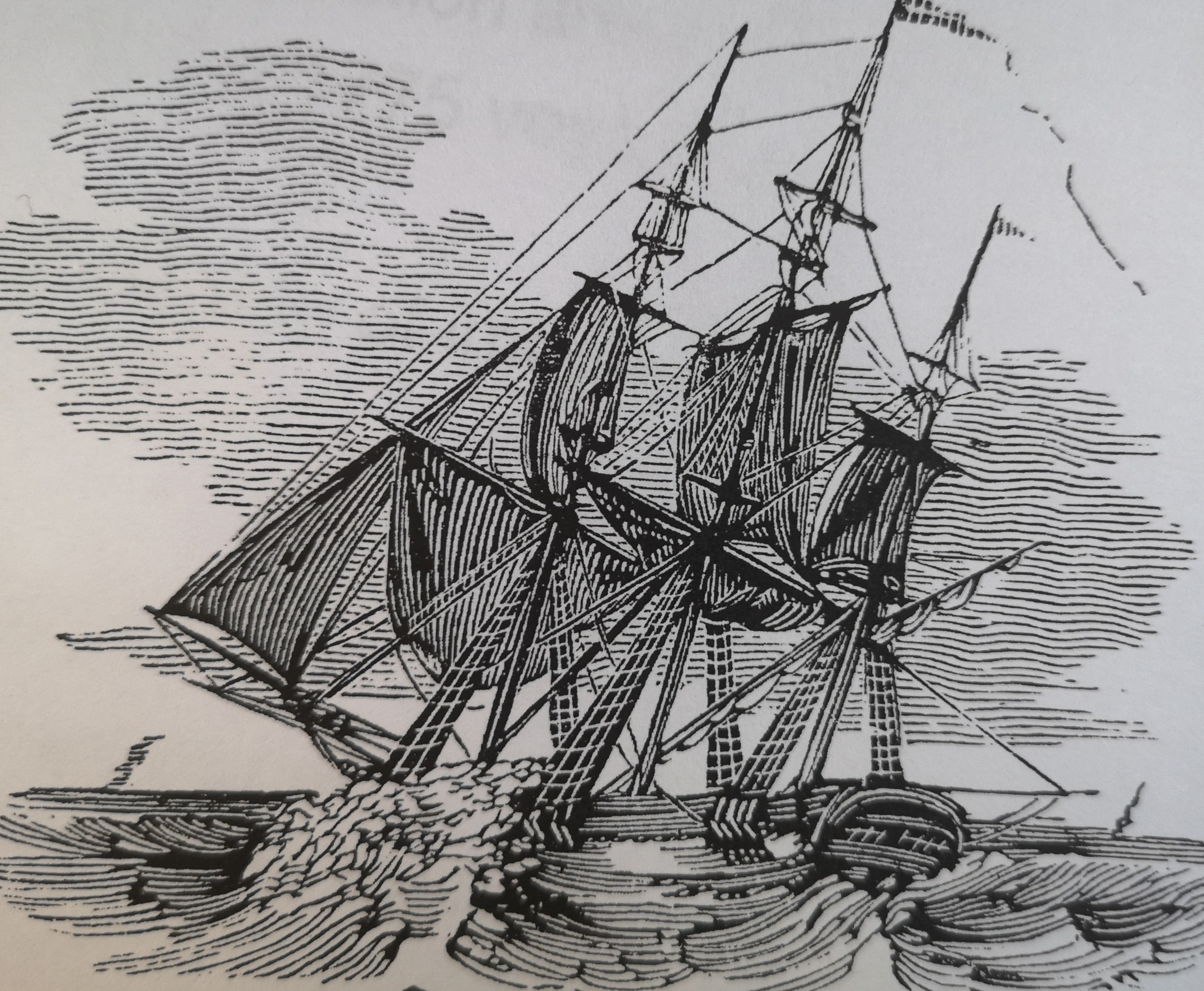 Voyage from hope to experience

In the 1770s, the brig Lovely Nelly left the Solway for Prince Edward Island carrying the hopes of 120 families. Now a new collection of writing imagines their stories, writes Carol Hogarth
---
Armstrong, Thomas. Nethernmiln, Glencairn. Could not earn bread sufficient to support him & his family.
Clark, Joseph. Joiner. Sanquhar. To get better bread.
Douglas, William. Labourer. Kirkboan (Kirkbean). To mend himself.
Johnson, Gavin. Schoolmaster. Bothwell, Lanark. To get a place.


In 1774 and 1775 Lovely Nelly sailed from ports along Scotland's Solway coast to Prince Edward Island in Nova Scotia packed with families all striving for a better life in the New World.
Behind the sparse statements on the snow class brig's passenger lists are stories of hardship and enterprise, desperation and ambition, despair and hope.

At the time of the Highland Clearances in the north of Scotland, which saw landlords starving out crofters for agricultural improvement, similar changes were happening in the south of the country, squeezing the livelihoods of people who relied on working the land for their survival.
Lured by assurances of land, tools, homes and work, many chose to risk everything and scraped the money to pay for passage to North America and Canada. 
Advertisements of the time promised "excellent accommodation" aboard a "fine new ship", a "desirable vessel" or "commodious conveyance" sailing from Annan, Kelton, Glencaple, Carsethorn, Kirkcudbright…
In fact conditions aboard Lovely Nelly, and ships like her, were horrific, cramped and unsanitary, with disease and starvation rife, death common.
And any little hope remaining soon vanished when, on landing, the Scots were met with a fresh set of challenges including famine, wild animals and land disputes.
Writer Vivien Jones, one of Wigtown Festival Company's Literature Ambassadors, led a group of 14 Dumfries & Galloway writers in a recently completed project inspired by Lovely Nelly and her human cargo.
She believes it is the personal stories and the universal theme of emigration which so affected the group: "There are strong parallels with what's happening today," she says. "Emigrants are still taking great risks as they seek a better world for themselves and their families.
"That desire for a better life is so strong in humanity, particularly for people with children. This is historical material, but essentially a human story."
Vivien first came upon Lovely Nelly's passenger lists online while researching for a previous project and was fascinated: "They are not simply lists," she explains. "They give reasons for why people are travelling, ages, occupations … I always had it in the back of my mind that I wanted to write that story."
So when she agreed to deliver a creative non-fiction workshop for Crichton Writers, she shared with them her Lovely Nelly research: "It was supposed to be a two-hour workshop, but no one wanted to stop."
The project, supported by Wigtown Festival Company, was opened out to more local writers and two further workshops were held at Dumfries Museum, with participants sharing and discussing their own research and writing.
"We looked at so much wonderful source material including historian Frances Wilkins' highly detailed pamphlet based on an Edinburgh court case about skulduggery over land in Nova Scotia concerning passengers of the Lovely Nelly," says Vivien.
She also discovered one of the participants, Carol Price, was a retired GP interested in the history of medicine: "Carol researched illnesses of the time and the conditions on ships relating to overcrowding and poor ventilation, hygiene and diet, vermin and lice."
Carol's research revealed conditions on ships would have included scurvy, typhus and cholera, tuberculosis and smallpox. Treatments for most comprised of blood letting or purging (induced vomiting).
The group's collection of work – 'Lovely Nelly: A Ship of Hope' – includes poetry and prose in Scots and English, letters, and diary entries.
And Vivien was delighted that author Matthew Crampton agreed to the use of atmospheric illustrations from his book Human Cargo. "Everything came together extremely well," she said.
Many of the writers 'adopted' particular passengers from the lists, conjuring up details of their lives and stories, imagining their nervous anticipation on leaving the Solway shore, the horrors they endured during the voyage and the obstacles they faced in Nova Scotia. 
Their pieces reflect the innocent excitement of trusting young children waiting to set sail; young mothers filled with dread at watching their children succumb to disease and death; harrowing births and frequent burials at sea; the dashed hopes of young men who'd started out with so much optimism and ambition.
One poem gives voice to John Smith, who sailed from Annan aboard Lovely Nelly and died by drowning shortly after landing in Canada. Another writer researched the family of Mary Banks, who also met a gruesome end in the New World, "eaten by a bear as she walked through the woods between Georgetown and Mount Stewart".  
"The early emigrants had the most awful time," says Vivien. "And when they arrived in Canada, they found the lists of things they'd been promised – six month's provisions, tools, help to build cabins – never materialised.
"They would never have survived without the hardworking, enterprising spirit Scots are known for."
Living at Powfoot, near Annan, Vivien says: "I walk along the shore every day, and to think of a ship that size heading out from Annan into the Irish Sea, let alone across the Atlantic … it's amazing it got there at all."
Despite all the horror, despair and hardship, the collection ends on a positive note in a poem by Jane Richardson, in the voice of Lovely Nelly passenger Helen (Nellie) Waugh:
"We have weathered many winters
   and felt the warmth of many summers
our children, and grandchildren
   Flourish and prosper
are now integral, as we are, 
to this New World of Canada
 I am at peace, content
our Scottish roots intact."  
*Participating writers are: Eleanor Chesters, Dan Gillespie, Jackie Johnston, Vivien Jones, Jean Manson, Alexandra Monlaur, Judith Muir, Kriss Nichol, Carol Price, Jane Richardson, Laura Rimmer, Angela Taylor, KA Vivers and Edmund Wigram.